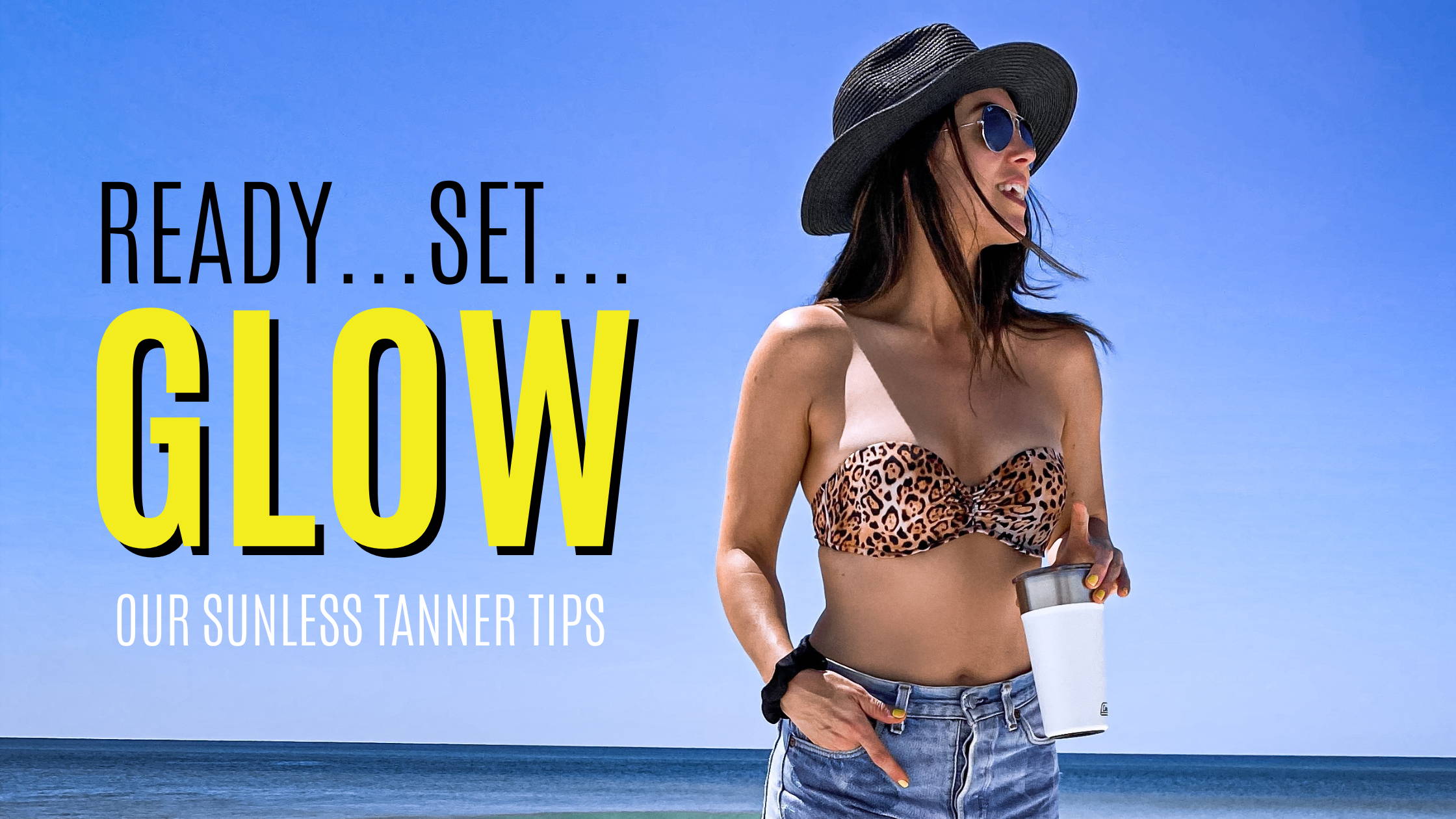 You may have noticed your favorite clothing store has busted out the swimsuit section recently, and that can only mean one thing...summer is coming (PRAISE JESUS).
If you've taken the first leap towards warmer days and actually tried on one of those swimsuits, you might have been slightly startled by the blinding light reflecting off of your pale legs. Luckily in this day and age you can achieve bronze goddess status without stepping foot outside, or encountering harsh ultraviolet rays. We're talking sunless tanner, because no tan is worth causing permanent damage to your skin.
If the thought of using sunless tanner brings flashbacks of orange skin, streakiness, and stained hands, then this blog is for you babe. Here are some of our tips for achieving the ultimate sunless tan (plus our favorite products).
Gently exfoliating your skin a few days before applying your tanner is a great way to prevent blotchy coverage.
That's because your tanner is applied to fresh skin instead of dead skin cells that could eventually shed off and leave uneven spots in your tan. You can make a really great exfoliator using your Pre-Cleanse Oil and baking soda. Check out the tutorial below!
Chances are if you're a human being with skin you've noticed that when you bend or stretch your skin naturally creases (totally normal). Sometimes your tanner can get built up or stuck in those natural lines and create uneven coverage for your tan.
By starting at your feet and working your way up (ending with your neck and face), you can help avoid leaving streaks or lines in your tan.
BLEND WITH HYDRATING BEAUTY OIL
Once you've finished applying your tan, try applying the very tiniest amount of Hydrating Beauty Oil to your fingertips and go around your ankles to blend it out perfectly so there aren't any harsh lines at the ankle or feet.
To prevent sweat from building up and lifting off your tan try applying a talc free baby powder anywhere you tend to have extra sweat (under boob, armpits, and butt cheeks).
It won't mess up your tan, and it also helps remove that sticky feeling that comes with tanning.