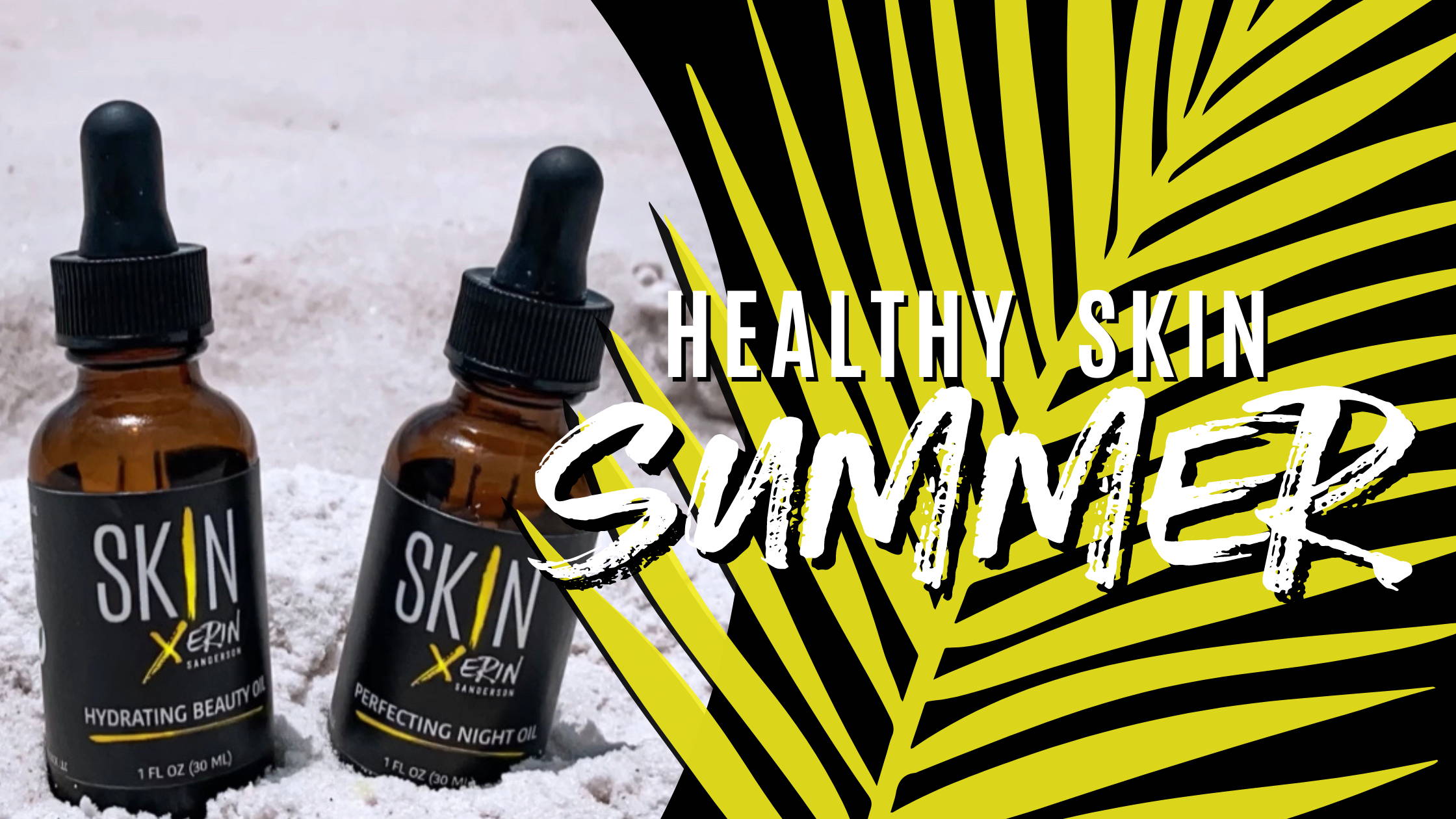 SKINxERIN IS THE OFFICIAL SKINCARE OF SUMMER
SKINxERIN oils are pretty much the cat's meow all year round, but these all natural oils really "shine" during the summer months. I mean what screams sultry summer more than naturally glowing skin from a simple, clean ingredient skincare routine. Throw in a popsicle and a flashy pool floaty and you've reached summertime perfection.
But it's not enough for us to give you effortlessly beautiful and healthy skin, SKINxERIN also comes in handy for other summer applications. Making them a healthy skin summer essential.
GET SEDUCTIVELY SMOOTH LEGS
The temps are heating up and it's time to shed that wooly rug you've been growing on your legs(Or not. We Don't Judge). That being said, shaving can be a real pain. We're talking razor burn, bumps, and dry patches.
The secret to touchable smooth legs is our Pre-Cleanse Oil. In addition to cleansing your face it also makes a stellar shaving balm. That's because Grapeseed Oil keeps your skin hydrated and smooth by helping the Vitamin E and Vitamin C in your skin work more effectively.
Just apply the Pre-Cleanse Oil to your legs, shave, rinse, and fall in love.
KEEP THOSE LUSCIOUS LOCKS
There are so many things we love about summer - basking in the warm sun, a dip in a refreshing pool, driving with the windows down and the radio turned up loud. Turns out a lot of those things are hell on your hair too.
Our Hydrating Beauty Oil is the tall drink of water your dried out tresses have been looking for. Just massage a few drops of oil onto your fingertips and gently work it into your dry ends. It's a quick way to replenish the nutrients summertime has stripped from your hair.
Raise your hand if you know that sun burns are TERRIBLE for your skin *raises hand*.
Now raise your hand if you're still guilty of getting burned at least once a year *also raises hand*.
We really can't stress how important it is to wear sunscreen and practice sun safety. We also know that shit happens and sometimes you get burned. If at the end of a day of fun and sun you're feeling a little red and raw, our Perfecting Night Oil is a great sunburn remedy. Just apply liberally to the affected area to help soothe pain, heal damaged skin, and prevent peeling.