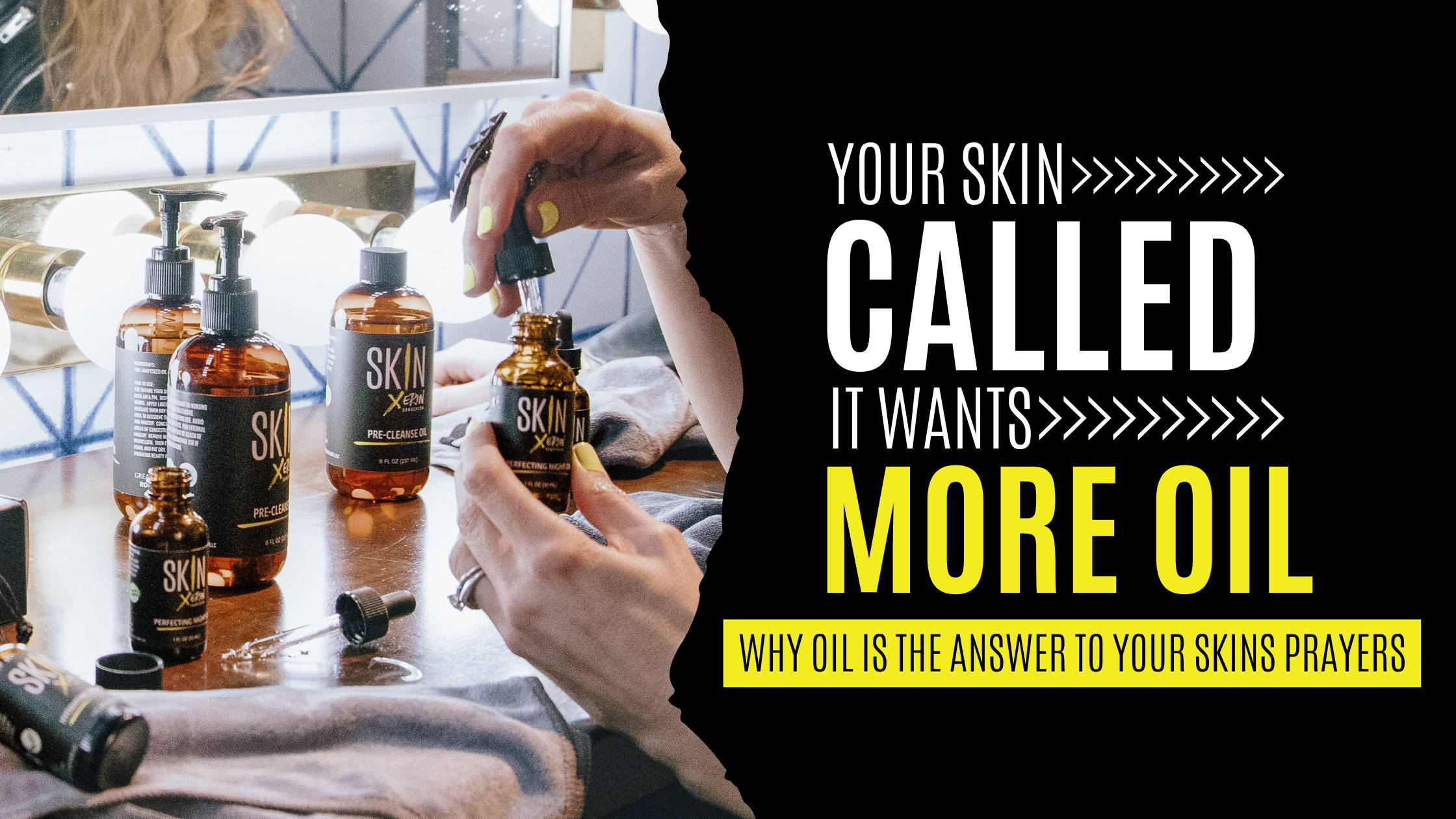 Let me ask you a question...Does your skin make lotion?
I hope you answered no, because if you answered yes I would suggest seeking medical attention.
But seriously, your skin is better at soaking up all the nutrients of skincare oils because it's used to working with them. Pure, single ingredient facial oils penetrate DEEP down, beyond the surface of the skin where problems like dry, oily, and acne prone skin start! They go to work instantly and keep working OVER TIME to replenish, restore, repair damage, reduce inflammation, and prevent further damage!
Generally speaking, most facial creams and lotions are made up of mostly water, wax, a few oils thrown in here and there (if you're lucky), and of course chemicals, fragrance, and preservatives (YUCK).
But here's what most people don't know…
The idea behind adding wax to the formulas is that it helps hold moisture into your skin… BUT that idea backfires in the long run! In reality, the wax builds up on your skin and that build up can cause breakouts. The wax also creates a barrier over your skin preventing the good stuff inside the lotion (the oil) from being fully absorbed and doing their job. So when you rely on lotions and creams… acne prone skin stays acne prone, and dry skin stays dry. You never really get to the ROOT of the issue and fix the skin imbalance.
GOT 99 PROBLEMS BUT OIL AIN'T ONE
The number one reason people won't try skincare oils is because they think it's going to give them oily skin...
IT WON'T! -The most magical thing about using the "CORRECT" oils on your face is that they help balance your skin.
I know it sounds counterintuitive, but the right pure, single ingredient oil will not only act as an astringent to get rid of excess shine and oil, but will also help regulate your skin's own oil production (aka: sebum) giving you significantly less oily skin overall!
Now if dry skin is more of your issue you're still in luck. The right skincare oil will be able to hydrate deep within your skins surface while sealing in your skin's natural moisture. And just like it does with oily skin it can help regulate your body's natural oil production so your skin will actually get better at hydrating itself. #TEAMWORK
Pre- Cleanse:
This Pre-cleansing oil removes dirt, debris, excess cellular turnover, and make-up (without tugging) to ensure clean, clear, healthy skin.
It promotes the restoration of collagen, making your skin feel more firm and minimizing signs of damage. Your skin will feel hydrated, nurtured, and ready to absorb the nutrients in your SKIN oil treatments.
Hydrating Beauty Oil:
Squalane oil is known for its intense hydration, anti-aging properties. If that wasn't awesome enough, it also has anti-inflammatory benefits to help with skin issues like acne or eczema. FUN FACT: It makes the perfect make-up primer - it's so light and your skin drinks it in!
Perfecting Night Oil:
This miracle oil is loaded with vitamin E, vitamin A, and antioxidants that nourish and revitalize skin! Its high levels of linoleic acid help to reduce inflammation making it amazing for acne prone skin. Its rich omega content is incredible for repairing lost elasticity and stretch marks. And it significantly improves skin hydration, smoothness, and visibly reduces deep lines and wrinkles!